Package of 4 notepads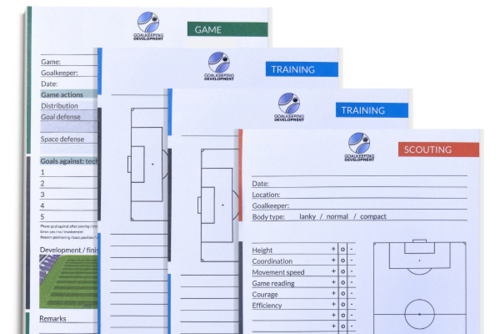 Get 1 scouting notepad, 1 game documentation notepad and 2 training notepads in A5!
1. 2x Training notepad:
Plan your training with our practical pad in A5 format. Whether you are at home, on the move or on the pitch... note your ideas for your training fast and uncomplicated.
2. 1x Game documentation notepad:
Document your games and the performance of your goalkeepers with our handy notepad in A5 format! Write down game actions such as big saves or successfully intercepted crosses, goals conceded and much more. Draw the development of goals quickly and easily.
3. 1x Scouting notepad:
Observe interesting goalkeepers and note down the most important strengths and weaknesses on our block. Add your own scouting criteria and comments. Note your assessments for your scouting goalkeepers fast and uncomplicated with our practical pad in A5 format.
Tip for software customers: The notepads corresponds 1:1 to the documentation in our software. Now you can write down all details and later transfer them to our software for your digital analysis.
Terms of delivery:
Scope of supply: 4 notepads in A5 format, 50 pages each (200 pages in total). Language: English
Delivery area: worldwide
Delivery time: Germany: 2-3 working days, Europe: 4-6 working days, third countries: 7-10 working days
Delivery costs: 6,90 Euro
12,90 € for 4 pieces
plus delivery costs