3-Pack: Athletics, Tactic, Technique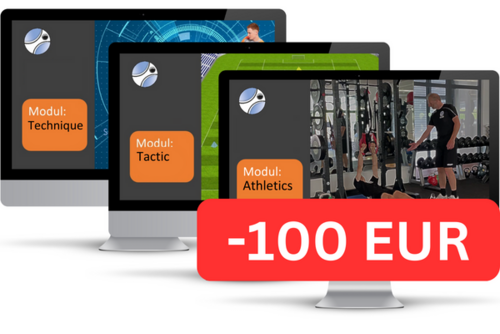 You want to develop as a goalkeeper or as a goalkeeper coach? Then you've come to the right place! Our courses are accessible at any time and from all devices. Take your training to a new level.
Part 1 - Technique (3 hours)
Watch videos of a cleanly executed technique and get explanations and tips on all goalkeeping techniques. Game scenes will help you to understand the application of each technique better.
Part 2 - Tactic (4 hours)
What position should the goalkeeper take and when? How does the goalkeeper behave best in standard situations? What are the goalkeeper's options on a goal kick?
Part 3 - Goalkeeper-specific athletics (2.5 hours)
Watch training videos to follow and learn more about the important topics of athletics, regeneration and prevention. How often and to what extent should goalkeepers train athletic content or what does an athletic weekly plan look like?
CONTENT OVERVIEWS
---
Contributing experts from Bundesliga
Michael Rechner - Goalkeeper coach FC Bayern Munich
Steffen Krebs - Goalkeeper coach VfB Stuttgart
Fabian Otte - Goalkeeper coach Borussia Mönchengladbach
Christian Weigl - Strength and conditioning coach TSG Hoffenheim
Nicklas Dietrich - Strength and conditioning coach German National Team
---
Good to know
You will receive a certificate for each section as proof of performance.
All you need is an internet connection. You can access all content via any device.
Your access has no expiration date. You do not have to view the training content all at once, but can log in again and again!
Our system will automatically activate you for the training within 24 hours.
With the order confirmation you will receive an e-mail with all information about your login.
Note for software and exercise pool customers
When purchasing these courses, please use your existing Goalkeeping Development account. All training contents of these courses will be activated within 24h in your existing account. If you cancel your software account sometime in the future, these courses will remain in your personal account.
167,00 € (instead of 267,00)