Trainings equipment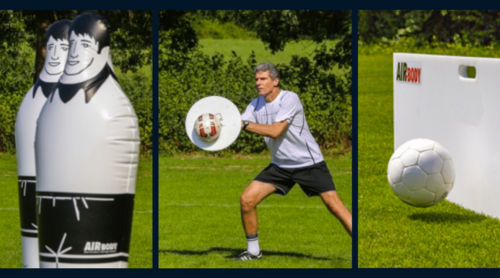 Filippi Wall - EUR 455
Strength material - extremely resilient
Quick and easy setup
Strong hold on each ground
Easily transportable because of the strong handle
Individual usage due to the inculded additional angle
Dimensions: 160 cm wide x 50 cm high
---
Filippi Shield - EUR 149
With the Filippi Shield, head-ball, free-kick and flank situations can be trained much more precisely. The trainer can control the angle of the rebound and thus keep the goalkeeper in training new challenges.
Benefit:
Even a good player can not perform headballs and shots with the precision required in the training. However, this precision is required if the goalkeeper training is to be carried out efficiently. With the Filippi Shield the trainer now has a tool that gives him the necessary precision in the training.
Technical data:
Diameter 450 mm
Material thickness 20 mm
Weight 2.550 g
Ergonomic handles
Rounded edges
Elastic special plastic for precise rebound behavior
---
Filippi Push - EUR 239
Developed together with goalkeeping coach legend Claudio Filippi, Juventus F.C. Full Contact System, one against one situations, realistic obstacle for high crosses. Train without risking injuries. Train on the highest level. Train like a pro. Proven AIR-Body quality combined with innovative ideas. Bring your training to a new level.
Technical data
Hight: 165 cm
Weight: 860 g
2 handles
---
AIR-Body Senior - EUR 400
The AIR-Body gets stability through having air pumped into it
The risk of injury is reduced to a minimum
Virtually indestructible plastic film used in medical engineering and space technology
No discoloring or loss of steadiness due to UV-radiation
Temperature resistant from -20 to +80 degrees Celsius
Reinforced welding technique, no weakening of the welded seam as usually happens with PVC
Quick and easy setup (30 seconds) due to our special valve technology
Double strength material at the bottom – Extremely resilient
Individual usage due to our flexible plug-in system
Realistic embodiment of the proportions of a real opposite player.
---
Senaptec Strobe - 499 Euro
Training glasses to improve your level of awareness, distractibility and perception
The lenses flicker between clear and opaque
Wear the glasses to train areas such as opening play, basic techniques and crosses
They limit your perception and make it more difficult to implement your training forms
Modify the perception limitations simply by pressing a button on the digital display
Usage tips by Goalkeeping Development
Adults may use the glasses up to 3 days per week (children once per week) for no longer than 20 minutes in controlled modes (start of game, basic techniques, crosses).
---
If you are interested in the products above, please send us a mail to info@goalkeeping-development.com. We calculate the delivery costs for you and send you a non-binding offer. Shipping is done by our partner MGT Sports GmbH. Shipping time: 9-12 workdays
149,00 € price preview - products available - delivery costs upon request